Assoc. prof. Dr. Anton Tonev, MD, PhD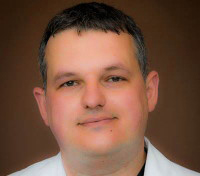 Biography
In 2013. defended dissertation on "Integrated Approach zaotkrivane, staging and endoscopic radical treatment of rectal adenomas and adenocarcinomas early" and acquired academic degree "Doctor".

In 2015, he became an administrative assistant at the Department of "General surgery".

In 2016, he won the competition for the acquisition of an academic title "Professor".

He teaches "Propedeutic surgery" and "Clinical Surgery" – lectures and exercises medical students from bulgarian and english couse of education.
Specialized:
Visceral surgery in Augsburg, Germany;

Endoscopic and mini-invasive surgery in Frankfurt, Germany,

endorektalna mini-invasive diagnosis and surgery, Seoul, South Korea;

micro surgery of the rectum in Fort Lauderdale, United States;

Mini-invasive and endoscopic surgery of the hepatobiliary system – Amsterdam, the Netherlands;

Echo-endoscopy-Paris, France.
Place: 
3D (3-dimensional) Laparoscopic (bloodless) resection/removal of fat and the right colon (see here);
Mini-invasive surgery of the rectum and anal canal – early carcinomas, polyps, hemorrhoids, fissures (see here);

Endoscopic endoechography of upper and lower gastrointestinal tract Department;

3D Laparoscopic (bloodless) surgery to remove the gallbladder.
Publications
His scientific activity is represented by 198 scientific articles and messages at home and abroad, of whom 47 in full volume 16 published in supplements of magazines, with 122 reports of scientific forums as an active participant, held in Romania, Serbia, Turkey, Egypt, Thailand, Greece, the United States, Russia, the Netherlands. Singapore, his personal impact factor is 52, and the total-89. Quoted by 43 authors from the country and abroad.
A member of the
Member of the American Medical Association;

The Bulgarian surgical society;

Union of scientists in Bulgaria.